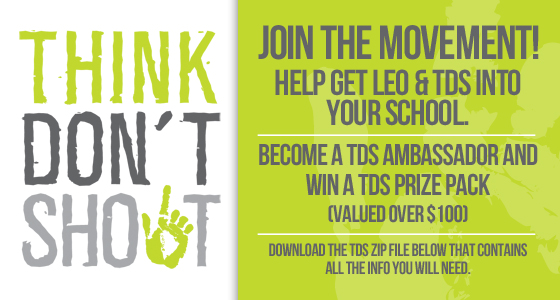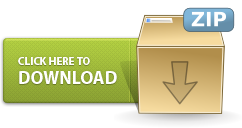 Become A Part Of The Movement
Are you interested in becoming a TDS Ambassador?
The founder of Think Don't Shoot Leo Barbe is performing his award winning character-building presentation in schools across North America but he needs your help!
Leo is looking for youth between 11-25years old to become Think Don't Shoot Ambassadors to help get TDS into your school.
Download the TDS presentation package today and email it to your Superintendent, Principal, Vice-Principal and teachers and you COULD WIN!
If Leo and TDS are selected to present at your school then you WIN a TDS PRIZE PACK (valued over $100) *no purchase necessary
The Presentations:
The Think Don't Shoot movement is being sparked in your community. Leo is providing his award winning educational and entertaining character-building presentations to elementary schools, high schools, colleges, universities, conferences, youth organizations and community centre's across southern North America. The award winning presentation highlights the fundamentals of TDS while Leo commands the stage with his captivating presence and unique twist.
Leo has been able to introduce more of his spoken word and Hip Hop skills, which only further captures the audience's attention. The TDS presentation will not only educate and inspire youth from all backgrounds but it also creates a positive shockwave guaranteed to leave a lasting impression.
Highlights
Leo's unbelievable story
Exposing the "ripple effects of violence & Bullying"
Introduction to PTSD
What are your fears? (How to face them)
Emotional Intelligence (Why should you care? Positive Self Talk)
Dealing with LIFE (How to cope and how to thrive)
Positive Change (How easy and rewarding it is)
FREE GIVEAWAYS (TDS t-shirts and posters along with CD's and merchandise from Universal Music Canada)
Teacher Package (classroom follow-up)
For more information on Leo Barbe or the Think Don't Shoot presentation, email Leo directly: leo@thinkdontshoot.com
He looks forward to hearing from you!
What people are saying:
"Leo was amazing! He came to my school twice and I got to see him both times. He is such an inspiration for me and the presentation was by far the best one I have ever seen!"
- Jerome (Student)
"The Think Don't Shoot presentation had my kids truly inspired and motivated to TAKE CONTROL. I was happy to see how relevant and relatable Leo was to all of my students. We will definitely have Leo and TDS come back. Keep up the great work Leo!"
- Mrs. Baker (Principal)
"I can't thank Leo enough for coming to my youth event and motivating my kids. His approach was perfect. My kids loved his story and also his spoken word parts. Those were amazing! He is very talented and I highly recommend him at any event. Thank you Leo for everything you do!"
- Anita C. (Social Worker – City of Toronto)
"My son came home yesterday wearing one of the TDS tshirts he won at his school while Leo was there. I cant get him to change! He loves the shirt and wont stop talking about Leo and his story. I am blown away at how much Leo's presentation inspired him. All he says to me now is "Mom Im taking control of my life like Leo did." Thank you TDS for giving my son hope."
- Robin T. (Parent)
"My name is Susy and Im 12. Leo was at my school today and I loved it. I cant believe he survived so much. Now I want to be like Leo and talk to kids that need help. He showed me that life is in my control. I don't want to lose control ever again. Please tell Leo that he is amazing. Thank you!"
- Susy (Student)